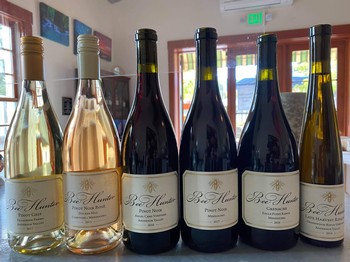 Sunset Magazine 2020 Wine Awards 6pack Special
2017 Pinot Gris 'Filigreen Farms' - Anderson Valley
(Reg $28 / 6pack price $19.60)
90 points, Gold medal - Sunset Wine Awards 2020
Filigreen Farm is a biodynamic farm in the heart of the Anderson Valley. Ali and Andy coax the herbal and minty character out of this wine so rarely found in Pinot Gris, but don't skimp on the viscosity and richness that make Anderson Valley the bees knees for Alsatian varietals. Close your eyes… Think of green… orange… tea leaves… papaya…. basil.

2015 Docker Hill Pinot Noir Rosé - Mendocino (Comptche)
(Reg $32 / 6pack price $22.40)
90 points, Gold Medal - Sunset Wine Awards 2019
This beauty was aged in bottle for three years before release and will impress the francophiles in your circleIt's a light salmon color. The nose expresses wet stone, floral notes - rose petals - white nectarine, and on the palate. It's sturdy. This expresses Pinot noir more than rosé. You get the mouthful from the barrel fermentation. It's not too tannic or acidic, just really SMOOTH! Really just density, and a lot of spice character. Wet stone follows all the way through the long finish. -- Andy

2017 Mendocino County Pinot Noir
(Reg $42 / 6pack price $29.40)
90 points, Gold Medal - Sunset Wine Awards 2020
A one time Pinot Noir blend in between our 2016 and 2018 Anderson Valley offerings. This Pinot Noir is ready to drink with tons of red and black fruits, spice box, forest floor, a supple palate, and a long, smooth finish. Vineyards used. Fashauer 20%, Signal Ridge 6.66%, Romani 26.66%, Mariah 13.33%, Arthur Rue 6.66%, Docker Hill 26.66%.

2016 Angel Camp Vyd Pinot Noir - Anderson Valley
(Reg $80 / 6pack price $56)
91 points, Gold Medal - Sunset Wine Awards 2020
Brian Zalaznick planted this 10-acre beauty located west of Philo on a scenic knoll above the Navarro River and overlooking the Anderson valley. This cool neighborhood, combined with the gravelly slope of the site, excellent farming, and good karma of the owner make it wonderful for nurturing classic Anderson Valley Pinot. The 2016 has a nose that is bursting with fruit, yet still restrained and not showing its full glory yet. The palate is crushing - ha ha - with a red cherry, blackberry, plum blanket that wraps around your tongue. The tannins are supple and smooth, with a long, satisfying finish. Ali's favorite Pinot in the tasting room!!!

2016 Eagle Point Ranch Grenache - Mendocino
(Reg $42 / 6pack price $29.40)
95 points, Double Gold Medal - Sunset Wine Awards 2020
One of the most beautiful ranches and vineyards in Mendocino County straddles 1255 acres 1800 feet above Ukiah Valley. Grenache, one of the most famous grapes from the southern Rhone in areas like Chateauneuf du Pape, has a special place in Andy's heart. Eschewing aromatics and balance over gobs of fruit, this wine will please Pinot Noir drinkers as well as fans of Zinfandel. Quite the straddle you say? It can be done! And it is…. Sayeth Bee Hunter.

2014 Late Harvest Riesling Greenwood Ridge Vyds 375ml - Anderson Valley
(Reg $42 / 6pack price $29.40)
95 points, Double Gold Medal - Sunset Wine Awards 2020
Late harvest wine is wine made from grapes left on the vine longer than usual. Grapes are often more similar to raisins, but have been naturally dehydrated while on the vine. Because there is more sugar in the grape, there is more leftover after fermentation resulting in a sweet wine. Like our Dry Riesling, this wine was made only in 2014, so it's a once in a lifetime opportunity to drink; even Greenwood Ridge vyds doesn't have anymore! While this will work with fruit and fruit desserts, foie gras, and the typical sweet fare, this can also pair with Thai food, turkey, and roasted pork.