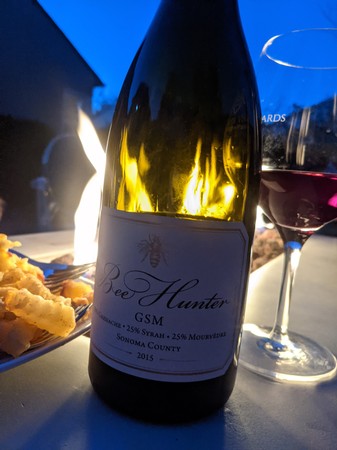 Rad Rhone 4-Pack
2014 Grenache Eagle Point Ranch - Mendocino
One of the most beautiful ranches and vineyards in Mendocino County straddles 1255 acres 1800 feet above Ukiah Valley. Casey Hartlip has been the caretaker of Eaglepoint Ranch up Mill Creek Road since the 1970s. He is one of the most respected grape growers in the business. The vineyard is now run by Roland Wentzel. Grenache, one of the most famous grapes from the southern Rhone in areas like Chateauneuf du Pape, has a special place in Andy's heart. Embracing aromatics and balance over gobs of fruit, this wine will please Pinot Noir drinkers as well as fans of Zinfandel. Quite the straddle you say? It can be done! And it is…. Sayeth Bee Hunter. Pair with BBQ, grilled lamb, wild mushrooms, sausages, spicy dishes like Moroccan and Asian, and veal.
2015 GSM - Sonoma County
This wonderful Rhone beauty is 50% Grenache from theFountain Grove AVA in Sonoma, 25% Mourvedre from the Sonoma Mountain AVA in southern Sonoma, and 25% Syrah from the Broken Leg Vyd in the deep end of the Anderson Valley AVA.
Great legs - err, Broken Legs... haha - in the glass. It's fruit-forward on the nose; the red fruit of the Grenache, the funk of the Mourvedre, and some leather and spice from the Syrah. A classic nose. The mouth is balanced, a little tanginess from the Grenache, richness in the mid-palate from the Syrah and Mourvedre... the finish goes on and on.
Food pairings: Any meat with herbs de Provence, to go with the Grenache, like a pork loin. Roasted root vegetables, something with a little spice, Indian spices, parsnip purée. Also, a polenta with a red sauce and end of summer vegetables and Pecorino Romano
2013 Syrah 'Vivio Vyd' Bennett Valley - Sonoma
The Bennett Valley is located in southern Sonoma and is known for cool-climate Pinot Noir and Syrah. Ali and Andy made friends with Joe Vivio who owns the namesake vineyard, back in 2013. The Syrah vines are planted on a bed of red, volcanic soil and the site is the last to warm up and the first to cool down.
100% Neutral French oak. 20% Whole cluster. Aged for 2 years in barrel, 3 in bottle before release in 2018.
Nose is juicy, black plum, peppercorn, with carpaccio and tiger-lily (spicy, sweet). Plush velvety tannins, bright acidity, satsuma plum. On the palate is leather, baking spice, wet slate, cigar box. Finish is savory with more carpaccio.
Pair with eggplant Parmigiana, other Italian food, Shepherd's Pie, or mutton pie.
2013 Syrah Reserve 'Vivio Vyd' Bennett Valley - Sonoma Valley
It's so good, we can't even think of words to describe it. ;)