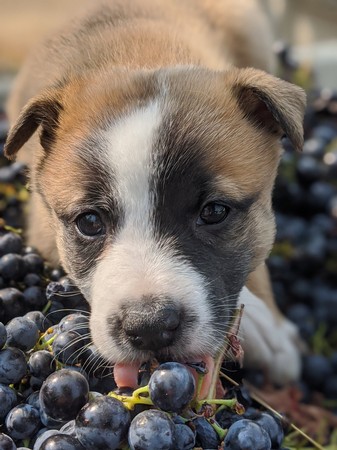 Puppies & Pinot 4-Pack
2018 Pinot Noir Anderson Valley
You'll not get a better representation of what Anderson Valley Pinot Noir is than this wine right here. Predominantly from the Zichermann-Roemer vineyard in the heart of Boonville. Fresh, lively fruit of cherries and wild berries coupled with the tell-tale forest floor echoes, brings you straight into the heart of the valley. Acid is perfect. It's well-balanced, elegant, and drinks on its own just fine without food. Of course, Andy and Ali would probably want you to have this with a nice piece of roasted pork, salmon, or mushroom risotto.
2017 Pinot Noir Mendocino Co
91 points, The Wine Enthusiast
A one time blend in between our 2016 and 2018 Anderson Valley offerings. This Pinot Noir is ready to drink with tons of red and black fruits, spice box, forest floor, a supple palate, and a long, smooth finish. Fashauer 20%, Signal Ridge 6.66%, Romani 26.66%, Mariah 13.33%, Arthur Rue 6.66%, Docker Hill 26.66%. *An Ali favorite*
2017 Pinot Noir Rose -
Whole cluster pressed, native yeast. 60% Mariah vyds, 40% Docker Hill. This was Andy's first year using Mariah Pinot Noir fruit. Not all the Mendocino Ridge vineyards like Mariah do well is because they're very windy. Even though this vineyard is on the top of the ridge, it's a little 'bowl' that doesn't get the wind. Brilliant salmon color, savory in the nose. More of a rosé nose - more like Provencal; sage brush, rainier cherry, mouth is very sweet tart… Very approachable.
2017 Pinot Gris -
Biodynamically Farmed
Filigreen Farm is a biodynamic farm in the heart of the Anderson Valley that not only produces some of the best Pinot Gris grapes in California, but the best produce, olive oil, nuts, and other delicious treats from Mother Nature. Ali and Andy coax the herbal and minty character out of this wine so rarely found in Pinot Gris, but don't skimp on the viscosity and richness that make Anderson Valley the bees knees for Alsatian varietals. Close your eyes… Think of green… orange… tea leaves… papaya…. basil. Andy says you can age this for another 4-5 years. Pair with antipasto, poached or grilled chicken and fish, mussels, salad, salmon, scallops, mildly spicy food and veggies.