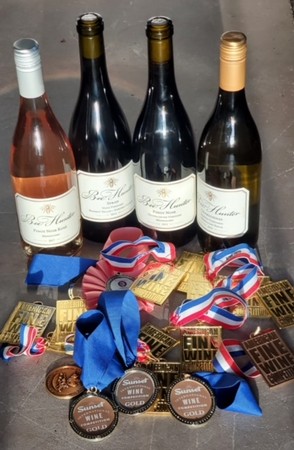 Golden 4-Pack
2017 Chardonnay 'Mariah Vyd' - Mendocino Ridge
Mariah Vineyard is owned by Dan and Vicki Dooling and is one of the most sought after vineyards by talented winemakers looking for sumptuous Chardonnay, Sauvignon Blanc, Pinot Noir, and Zinfandel.
This Chardonnay might be one of Andy's best! The fruit here shines with peach, red apple, apricot and a tangerine spice reminiscent of the great Meursault in Burgundy. Fruity, yet deliciously dry, this will pair with fish, poultry, Boeuf de Bourgogne, escargot, and pastas with cream.
2017 Pinot Noir Rosé - Mendocino
Brilliant salmon color, savory in the nose. More of a rosé nose - more like Provencal; sage brush, rainier cherry, mouth is very sweet tart… Very approachable.
2013 Pinot Noir 'Oppenlander Vyd' - Mendocino (Comptche)
Clear garnet, with a little bit of brickiness. Dried rose petals, a little mintiness, bright red plum, satsuma plum, a little forest floor earth. On the palate, bright red fruit, cherry, nice acidity, balanced, great mid-palate, medium length. Finish is a little riper with red raspberry and yellow pomegranate. Astringency shows up which gives it a youthful glow. Doesn't taste like a '13.
This is a classic pairing for duck with a cherry glaze. The earthiness will go with all sorts of things as well, like brussel sprouts, or a salad nicoise.
2014 Syrah 'Vivio Vyd' Bennett Valley - Sonoma County
On the nose. A lot of spice, darker fruit, spicy fig compote, Indian blood peach, stone fruits, lots of wet slate. Mouth is tight and structured, elegant, lots of fruit up front, ripe black currant, cassis. More white pepper than black pepper. Long and savory finish with tobacco.

Pair with Ethiopian goat curry, a rare tomahawk chop, south American steak with churasco/chimi-churri stuff.