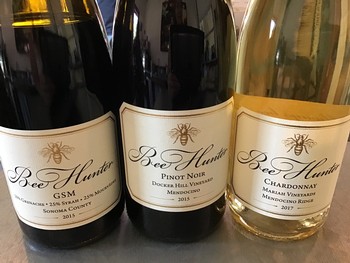 BEEGOOGLE
Enjoy a Virtual Wine Tasting on August 26th with Andy & Ali, lead by Elissa, who hand picked this 3-pack for y'all at
2015 GSM (Grenache, Syrah, Mourvedre), Sonoma County
Red Rhone Blend
This wonderful Rhone beauty is 50% Grenache from theFountain Grove AVA in Sonoma, 25% Mourvedre from the Sonoma Mountain AVA in southern Sonoma, and 25% Syrah from the Broken Leg Vyd in the deep end of the Anderson Valley AVA.
Great legs - err, Broken Legs... haha - in the glass. It's fruit-forward on the nose; the red fruit of the Grenache, the funk of the Mourvedre, and some leather and spice from the Syrah. A classic nose. The mouth is balanced, a little tanginess from the Grenache, richness in the mid-palate from the Syrah and Mourvedre... the finish goes on and on.
Released at 5 years of age, but will age more in about 10 years. Only 9 barrels of this were made - that's 225cs.
Food pairings: Any meat with herbs de Provence, to go with the Grenache, like a pork loin. Roasted root vegetables, something with a little spice, Indian spices, parsnip purée. Also, a polenta with a red sauce and end of summer vegetables and Pecorino Romano.
2015 Pinot Noir 'Docker Hill Vyd', Mendocino (Comptche)
Winemaker's notes:
100% Cane pruned - 35% Whole Cluster fermentation. Fermented in small, open-top vessels. 30% new French oak, 20% 1 yr old French oak, 50% neutral oak. Aged two years. Bottled in 2017.
Garnet, clear meniscus. Nose is black fruit, violets, blackberry spices, allspice and cinnamon. On the palate, we got some brambly blackberry. Rich with salinity, though not as much as the '14; like a wet stone. A little bit of forest-floor. Long finish, keeps going and going and going.
Pair with braised rabbit w/ a tarragon cream sauce and Spring onions, roasted new potatoes. Or do the same thing, but braised halibut and fresh peas.
2017 Chardonnay 'Mariah Vyd', Mendocino Ridge
Located at about 2600 feet above sea level, the Mariah vineyards is one of the prized sites in the Mendocino Ridge (Islands in the sky) AVA. Wolfey-Bearwallow soil complex. What's surprising is how high it is on the mountain, the loamy soil is quite deep.
Thrice used 400 gallon foudre for fermentation and ageing. No new oak. Whole cluster pressed, native yeast, native malo. Aged on on the lees for nine months.
It's owned by Dan and Vicki Dooling and is one of the most sought after vineyards by talented winemakers looking for sumptuous Chardonnay, Sauvignon Blanc, Pinot Noir, and Zinfandel. This Chardonnay might be one of Andy's best! The fruit here shines with peach, red apple, apricot and a tangerine spice reminiscent of the great Meursault in Burgundy. Fruity, yet deliciously dry, this will pair with fish, poultry, Boeuf de Bourgogne, escargot, and pastas with cream.