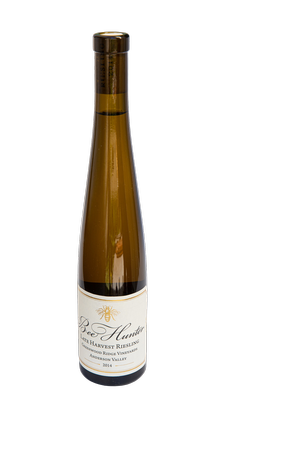 2014 Late Harvest Riesling 'Greenwood Ridge Vyds', Anderson Valley 375ml
Dessert wine
Harvesting: 2 passes - End of October (wet botrytis- 26 brix.), then the first week of November (dry botrytis - 39 brix).
(Half Bottle 375ml)
Double Gold, 95 points- Sunset Magazine 2020 Wine Awards
Late harvest wine is wine made from grapes left on the vine longer than usual. Grapes are often more similar to raisins, but have been naturally dehydrated while on the vine. Because there is more sugar in the grape, there is more leftover after fermentation resulting in a sweet wine. Sometimes a vineyard fungus called botrytis or what winemakers call "noble rot" can concentrate the sugars even further.
Like the Dry Riesling, this wine was made only in 2014, so it's a once in a lifetime opportunity to drink - and hopefully grab some more! While this will work with fruit and fruit desserts, foie gras, and the typical sweet fare, this can also pair with Thai food, turkey, and roasted pork.
Gold Medal Winner - The Fifty Best - 2020
Aroma: Apricot, nectarine, pineapple, mango, persimmons, melon, orange marmalade, sweet nectar, honey, concentrated sugars, cola, honeysuckle, oak.

Palate: Apricot, apricots drizzled in honey, ripe mango, peach, pineapple, sweet apple cider, golden raisins, prunes, dates, dark raisins, honey, cotton candy, cola, honeysuckle, white flowers, clover, nutty, botrytis, balanced, big, fat, rich, buttery, silky.

Finish: Apple, pear, ripe berries, dried dark fruit, juicy, honey, late harvest style, smooth, well rounded, rich, well made, delicious.
Wine Specs
Appellation
Mendocino Ridge
Vineyard Designation
Anderson Valley