Salmon Recipe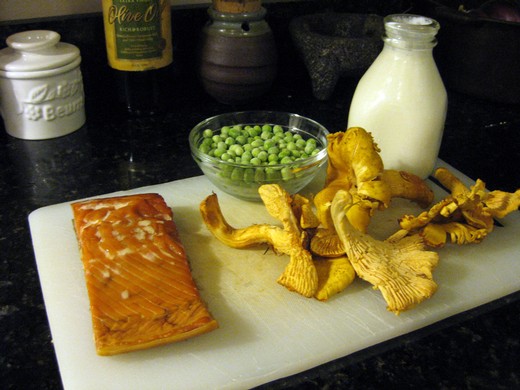 Recipe Date:
November 12, 2018
Measurements:
Imperial (US)
Ingredients
1 lb Golden Chanterelles
2 Large Yellow Onions
2 ozs Butter
1/4 cup Dry White Wine
1/2 cup Heavy Whipping Cream
4 1/4 Salmon Fillets
2 ozs Olive Oil
Salt and Pepper to taste
Directions
Mushroom Directions:
1. Coarsely chop 1 lb golden Canterelles.
2. Thinly slice two large yellow onions.
3. Saute mushrooms and onions over medium heat with 2 oz. butter.
4. When onions are translucent and mushrooms begin to lose liquid add 1/4 cup dry white wine and 1/2 cup heavy cream.
5. Reduce heat to medium-low, cook until liquid has been reduced and mushrooms are juicy but still firm. Approximately 12 minutes. Add salt and pepper to taste.
Salmon Directions:
1. Pat 4 1/4 pound salmon fillets between paper towels to dry surfaces. Season with sea salt and pepper.
2. In a large skillet (don't use non-stick), heat 2 oz. Olive oil over high heat until shimmering. Reduce heat to medium, then add salmon fillets, skin side down. Press firmly with a spatula.
3. Cook for 4 minutes uncovered. Reduce heat to very low and cover with a platter guard. If you don't have a splatter guard us a lid but make sure there's a gap to let steam escape. Continue to cook until salmon registers 110°F (43°C) in the very center for rare, 120°F (49°C) for medium-rare, or 130°F (54°C) for medium, about 10 minutes total.
4. Using two spatulas, flip salmon fillets and cook on second side for 15 seconds.
Serve Salmon immediately with mushrooms and onions on the side. Garnish with parsley and Meyer lemon wedges.