Ali's Golden Nut Mix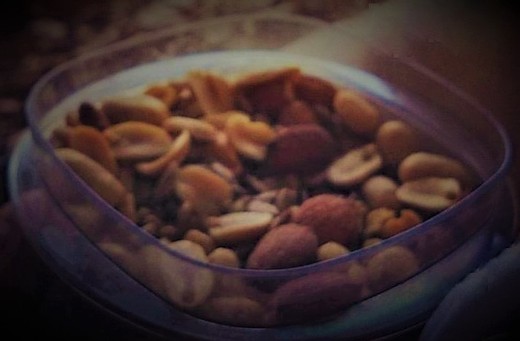 Recipe Date:
November 13, 2018
Measurements:
Imperial (US)
Ingredients
Unsalted Pumpkin Seeds
Unsalted Sunflower Seeds
Unsalted Sesame Seeds
Unsalted Almonds
Unsalted Marcona Almonds
Unsalted Macadamia Nuts
Unsalted Cashews
Unsalted Pecans
Unsalted Hazlenuts
Unsalted Peanuts
Unsalted Pistachios
Unsalted Walnuts
Salt
Pepper
Cinnamon
Nutmeg
Allspice
Chinese 5 Spice
Paprika
Tumeric
Coriander
Cumin
Cayanne
Oregano
Butter
Lard
Sesame Oil
Avocado Oil
Olive Oil
Grape Seed Oil
Coconut Oil
Garlic Cloves
Spicy Peppers
Directions
In a large skillet use whatever oil you wish and add in others to flavor per your preference. Sesame oil is a secret that makes the dish really tasty.
Start on med-low heat then modify as necessary
Add large nuts like walnuts, almonds and pecans then some of your preferred spices until they start to brown (about 10-15 minutes) I like to use a lot of spice!
Add in smaller nuts like peanuts and pistachios with more spices and oils to taste, for about another 10-15 minutes.
Add in seeds last for another 10-15 minutes with more spices (should be good on oils).
When toasty brown and smelling delicious, add garlic cloves sliced into 3-4 thick pieces and spicy peppers in small diced pieced (include seeds for extra punch if desired).
Mix together for another 5 minutes and pour into a large bowl to cool.
Mix should be crunchy, if not leave on the stove at low heat until the oil is absorbed and the mix is crunchy.
Serve in small bowls around the room for guests to snack on as they wish. (I always include a serving spoon so that guests do not dip their fingers into the bowls).