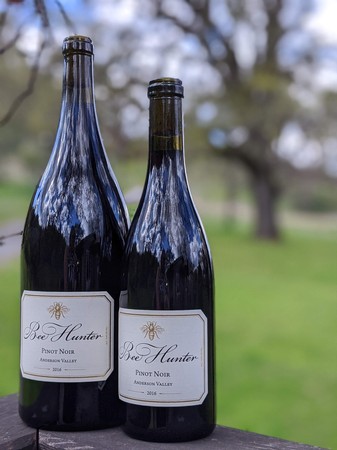 Holiday Case Special 2018 Anderson Valley Pinot Noir
What would Andy Do with 12 bottles of 2018 Anderson Valley Pinot Noir?
#1. Drink It
#2. Make It
#3. Sell It
#4. Give It Away
#5. Age It
#6. Talk About It
Pair It With:
#7. King Salmon
#8. Roasted Winter Veggies
#9. Roasted Chicken
#10. Certainly Mushrooms (wild mushroom tart with gruyere)
#11. Pork Loin w/ Pollenta & Fennel, Panchetta, Cream Sauce
(ok, now we're hungry...have you seen our lil cooking show?)
#12. Travel
Ali loves to cheers with AV Pinot Noir 2018. This newly released expression of Anderson Valley is a crowd pleaser. Great Stocking Stuffers, Holiday Dinner Wine, Lounging Wine!!! Took a cooking show break for National Marketing trips in November. Back @Chateau_du_Vigneaud in PHILO & Boonville for December!
Traveling to Mendocino County soon? You are welcome to pick-up a case from Ali or Andre at the Tasting Room. We also currently ship to all states except AL, AK, DE, KY, OK, RI, UT. Order now to receive 12 little extra helpers with holiday shopping, meals, relaxing, etc...was $504....now only $387!
We appreciate you greatly and wish you very Happy Holidays,
~ The A Team