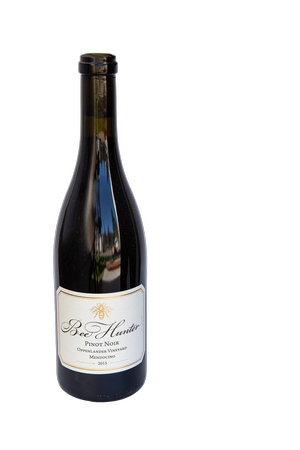 2015 Pinot Noir 'Oppenlander Vyd', Mendocino (Comptche)
Winemaker's notes:
50% each Cordon and Cane pruned. 25% Whole Cluster fermentation. Fermented in small, open-top vessels. 25% New French oak, 25% 1 yr old French oak, 50% neutral French oak. Aged for two years. Bottled in 2017
Bright red, brilliant red. No browning, no visible shift in the meniscus. On the nose, I get a little bit of funkiness, charcut, cured meats, a hint of organic purple cabbage. More on the nose there's some cassis, ripe plum, other dark fruits. Savory in the mouth, wet slate, bing cherry, cassis, …. The tannins on this a year ago, were so grippy, now they have softened. This will be amazing in another ten years.
With the tannin density we'd want to go with red meat, or venison backstrap w/ smoky cippolini onion reduction and meyer lemon risotto, butter braised fennel bulb.
(Also our beloved vineyard where we fell in love with our Baxter kitten.)